Infrastructure
The central computing facility controls the IT infrastructure of about 1300 computers with latest softwares and operating systems. The centre provides individual terminals to each student and the laboratory is kept open from 7.00 am to 10.00pm on all working days. This division supports 24-hour access to 1000 Mbps Internet Leased Line that is networked throughout the campus. This network along with campus wide Wi-Fi facility provides seamless internet connectivity the entire campus including classrooms and hostels.
Novell, Windows and UNIX servers, Super Computer, Linux Cluster and Blade servers with Quad-core Intel Dual Xeon Processors, 2.66 GHz, 8 GB PC2-5300 FBD DDR2 RAM, 2 X 146 GB SAS 10K SFF HDD with RAID 1 provide a powerful server architecture at SASTRA. Microprocessor kits and associated hardware are available in the microprocessor laboratory.
High Performance cluster
The School is equiped with a HPC with 1 Master Node & 3 Compute node which has One Tera Flop throughput.Each node is an IBM system XiDataplex dx360 M4 server with Intel Dual Xeon E5-2670 8 core each @ 2.6 Ghz, 20 MB Cache 1600 Mhz, 64 GB ECC DDR3 RAM @1600 Mhz LP RDIMM, 2X500GB SATA Mellanox Dual port QDR/FDR 10 Mezz card, Mellanox 36-port Managed QDR switch bundle, for Infiniband (40 Gbps) interconnectivity. 6 TB of storage capacity and powered with Redhat Enterprise Linux 6.x HPCC 8 pack up to 8 socket & ROCKS cluster suite ver 6.1
Operating Systems
Novell Netware 5.0
Netware 5.1
Windows 2000, XP Professional & VISTA
Windows 2000 Server
Windows 2003 server
SCO UNIX 5.0
HP UNIX
RH Linux ES & workstation
SUN Solaris 10

Packages
MS Office 2000
MS Back Office
Word Star 7.0
Languages
Borland C++ 4.5, Turbo C++ 1.0, Turbo BASIC, MS COBOL, Softek Pascal.
DBMS & RDBMS
Oracle 9i, Informix 4.5, Dbase 5.0, FoxPro 2.6, Paradox.
Quattro Pro

Design/Analysis Tools
AutoCAD R13, Design CAD, Instant Architect, STAAD Pro 2003, AutoCAD 2000 with MDT & Land Development, NISA, Alecop, CNC,EDGE CAM, Adams 8.0, Solid CAM 2003, ANSYS 8.0
Front End Tools
Oracle 9i Developer suite, Visual Studio 2003,MATLAB, SPSS, Fox Pro, Visual Java, Visual Studio. NET.

Utilities
Network & Remote Laser Printers, Line Printers, Plotter, Web-Cameras, UPS, Case tools and Software Design Lab
Rational Rose – There is a separate lab for project & software development using industry standard software development tools from IBM rational.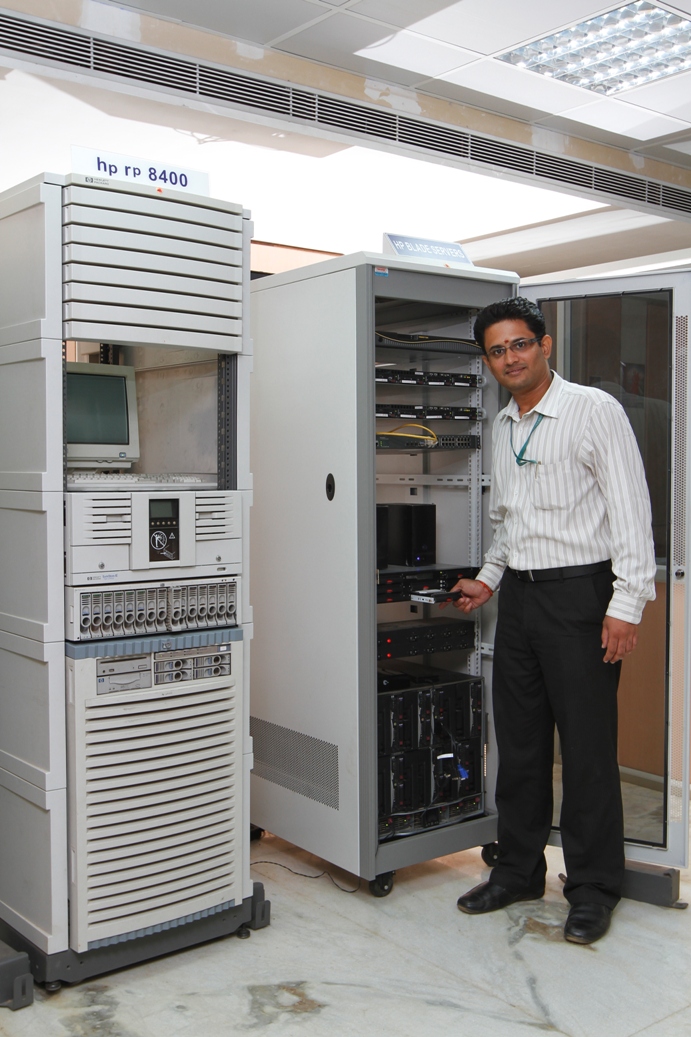 Advanced Projects Lab
This is a separate facility for real-time project development. Its uniqueness is that the systems administration & management is taken care of by the students themselves. Facilities like unlimited access to the internet, latest software and online help make it an ideal place for project development. Students utilize this lab to do J2EE, DoTNet, Parallel and Visual Programming etc.

Multimedia and Graphics Lab
The Multimedia Lab is equipped with systems running on Windows NT server, Novell Server and Linux Server and various software like Adobe Premiere, Adobe Go live, Adobe Photoshop, Macromedia Director, Macromedia Shockwave Studio, Macromedia Flash, 3D Studio Max, Discrete Effect, Discrete Paint, Sound Forge XP, Corel Draw and MAYA 3D.
Thin Clients Lab
Thin Clients lab is equipped with 60 thin client machines of WinBee model. The lab also has thin clients with smart card facility. All the thin clients are connected to Novell Netware 4.11, Redhat Linux 7.2 & Windows 2000 Servers. The thin client machine has an in-built Embedded Linux OS and 64 MB of local RAM. It also has 10/100 Mbps NIC, 2 Serial and one parallel port apart from one USB port. This low cost solution is used for browsing and for other simple applications.
R & D Lab
A separate lab with ten high-end systems and 2.8 GHz speed, 512 MB RAM, 80 GB HDD, has been set up for academic and R & D purposes, exclusively for staff members.
Accenture-SASTRA Mobile Computing Centre
An exclusive mobile application development centre with state of the arts facilities to develop socially relevant mobile applications has been established jointly with Accenture to encourage research & product development.
Image Processing Lab
The Image Processing Laboratory has various platforms of Intel Pentium based Windows, Apple Mac, Sun, Silicon Graphics Work Stations, SUN Workstations, Power Mac Apple Systems with 64 MB VRAM, iMac Apple systems with DVD Writer, 32 MB VRAM, Colour frame Grabber Card, Colour CCD Camera, Video & Audio Capture Card and SGI O2 Workstation – MIPS R12000.
IMAGE PRO–PLUS Image Processing Software, ERDAS IMAGINE Image Pro Plus and other image processing software, Apple iMac and PowerMac systems capable of running Multimedia software packages like Adobe, Maya, etc. are also available for the students. The lab is also equipped with necessary hardware facilities for imaging activities and processing
Computer Systems Lab
Distributed Computing
Advanced concepts in Database Systems
Software Testing and Validation
Advanced Algorithms
Special features
The Students participating in various competitions & projects for corporates
Faculty members present technical papers in various National & International seminars and conferences
The students are encouraged to undergo industrial training. The Association of Computer Engineers (ACE), the student association, organizes extension lectures and guest lectures by industry experts and researchers regularly
The students actively participate in the activities of Computer Society of India and Linux forum. Faculty members meet every week to discuss and deliberate on the latest advances in the field of computer science
AXIS-Association of ICT students organized various lectures, contests etc. for students
SCANIT - association of IT students conducts various IT lectures, seminars, and workshops for the students. Eminent IT experts are invited to interact with students.